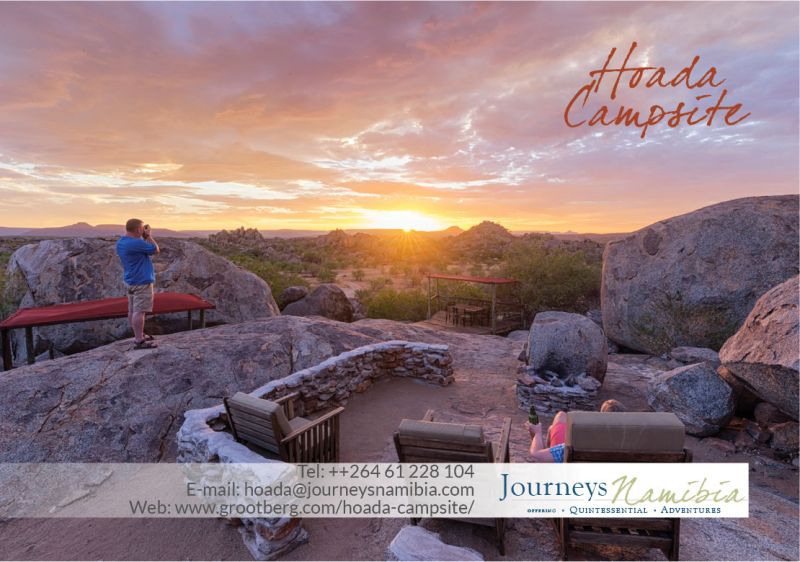 ZONE:
Zone 67: Palmwag / Sesfontein

CONTACT:
CATEGORY:
Accommodation: Nature Park
Hoada Campsite


---
Hidden among large grey granite boulders and mopani trees, Hoada (pronounce Waada) Campsite offers travellers a serene home in the wilderness.
The area, which is home to a variety of animals, offers spectacular views and a number of hiking trails and 4×4 tracks to explore. This sensational landscape is home to Namibia's uniquely adapted desert elephant, with its longer legs and smaller tusks, which are frequent visitors to the area. These and a number of larger plains game, reptiles and invertebrates are abundant on the Grootberg Plateau and river valleys that carve deep furrows into the landscape, waiting to be discovered by those passing through.
All six luxury camp sites can easily accommodate eight persons, with ample designated areas for four tents or vehicles with roof-top tents. The Group campsite can take up to 14 guests and have male & female ablution facilities.
Each campsite boasts its own kitchen facilities with running water and braai facilities with abundant space for setting up camp. As part of the mission of the conservancy, careful thought and emphasis have been placed on minimising the impact to the environment. Ablution facilities, with flush toilets, are cleverly hidden amongst the rocks and the braai area doubles as a "donkey" system, that warms water for showers while the braai fires are burning.
The Hoada Campsite has recently been upgraded with the help of a renowned Namibian lodge builder and designer and members of the #Khoadi //Hoas conservancy (Damara-Nama for corner of the elephant), who own the site. The name of the campsite, Hoada, is a Damara-Nama term for "everybody". This embodies the spirit of the entire conservancy, benefiting the community, the environment and tired, dusty travellers alike.
---